In early 1966 Gen. Vang Pao asked for US help in training Hmong pilots to fly T-28 aircrafts. Lowland Lao T-28 pilots got their training in 1965 but, once they graduated, were rather reluctant to be deployed to MR-II, partly because of dialect linguistic problems. Therefore, Gen. Vang Pao was asking for a special training that focused on the Hmong recruits who would be willing to serve in MR-II, knowing very well that, practically, almost none of them spoke any English.
The First Group of Hmong T-28 Pilots
The first group of Hmong T-28 pilots included Vang Toua, Vang Chou, Vang Ge and Ly Lu. Following his graduation in 1966, Vang Toua flew a T28 aircraft with two Lao pilots to drop bombs on the enemy along the Ho Chi Minh Trail near Thakhek. All three pilots disappeared. It was possible their plane might have hit the mountain during a cloudy day of the rainy season that severely limited pilot's visibility. Another possibility was that their planes could have been shot down by the enemy when they were flying at a low altitude. Vang Chou and Vang Ge did not complete the training, only Vang Toua and Ly Lu did.
In 1966, Ly Lu was asked by Maj. Gen. Vang Pao to come and work closely with him at MR-II. Lao and Hmong pilots also took turn serving in Long Cheng. Ly Lu led his Hmong and Lao colleagues in fighting the enemy whenever allied troops were being deployed. He was a courageous pilot who dropped bombs with extreme precision, even on ground holes where the enemy was hiding. In 1967, 1968 and 1969 the North-Vietnamese Communists got demoralized by the bombing raids flown by Ly Lu and other Lao pilots. Wherever the enemy dare devil troops were stationed, it was almost certain that all of them would be buried at that same location.
In the middle of 1969, Maj. Gen. Vang Pao started the "Thanong Kiat" (Safeguarding Honor) Operation between the Plain of Jars and Muang Soui, pushing the enemy out of the area. There were two major enemy resistance points located over two mountains east of Muang Soui that were equipped with 12.8 mm and 14.6 mm machine guns and 122 mm artilleries firing at the allies when there were no aircrafts flying in the air. Therefore, Maj. Gen. Vang Pao ordered Ly Lu and two other Lao pilots to drop 500 pound bombs to create at least one meter deep cavities. The bombs were dropped one by one along the mountain ridges from east to west. Ly Lu fully executed the order but his aircraft was heavy due to the weight of the bombs and the two pilots on board. The back-seat pilot, Lor Neng, was there to learn how to drop bombs from Ly Lu.
The first flight was a non-event, but during the second flight, when the aircraft was climbing up, it was fired at from the rear by the enemy using 12.8 mm and 14.6 mm anti-aircraft guns. The T-28 airplane got shot, was inflamed and felt to the ground. No pilots were seen jumping off on parachutes. Gen. Vang Pao was very sad and went home with tears in his eyes. The next day, the allied troops captured the mountain camps and searched for the bodies of Capt. Ly Lu and Lt. Lo Nieng to bring them back for funeral in Long Cheng. Pilot Ly Lu was a great and courageous fighter, who was never afraid to go on missions and fully executed his duties performance. He was a pilot who went on flying missions daily and had more flying hours to his credit than any other pilots in the world. He was well-known and highly regarded by the US military experts.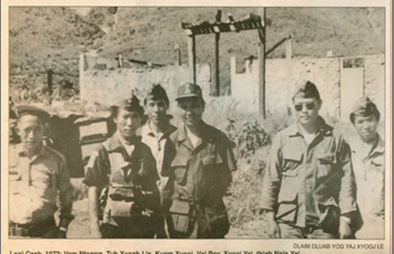 Photo #101. From left to right: Vam Ntxawg Tsheej (Backseat of Raven),  Ly Tou xiong T28,  Xiong Kuam T28, Gen. Vang Pao MR-II Commander,  Yang Xiong T 28, Raven Pilot  & Commander of Chao Pha Khao MR-II , Yang Bee T28 pilot. Photo taken in 1971, the year of the heaviest enemy attack on Long Cheng
After Capt. Ly Lu's class, there were many other pilot classes as listed below.
The Second Group of Hmong T-28 Pilots
The second group in 1967 included the pilots listed below, along with a quick summary of their duties and how they survived/died:
Lo Neng:  was killed with pilot Ly Lu in 1969;
Ly Yeng: killed in action in 1970 when the aircraft he was flying was shot down and fell on a big tree near the Plain of Jars;
Nhia Thao, was shot down in the Plain of Jars in 1970. His body was never found;
Mua Teng, was shot down in the Phou Hinh Tang Mountain in 1971 after the enemy recaptured the Plain of Jars;
Vang Dao, landed short on the wrong airstrip at Long Cheng, could not put the brakes on time, hit a storehouse and died on the spot;
Heu Ying, died during training in a plane accident. The flight instructor was able to safely jump off the aircraft, but not the student pilot;
Yang Xiong, a clever pilot fully involved in air operations against the enemy. His aircraft got hit many times by anti-aircraft guns but he always closely escaped danger. He flew Raven 01 aircrafts for a little over a year, locating enemy positions, and became the commander of the Chao Pha Khao pilots in Military Region II. He immigrated to the US and died in Minnesota in 2005 from illness;
Vang Seng, performed air operations against the enemy for about two years. He lost his life due to bad weather conditions as described in the following paragraphs. Col. Cher Pao Mua, commander of the allied forces in Bouam Long (LS 32), asked Gen. Vang Pao for air support just the night before the enemy heavily attacked them around the mountain range west of the Bouam Long airport. The enemy was also digging a tunnel toward the allies' military post and was about to reach it, while also continuously firing big guns at the camp. This prevented the allied forces from performing their enemy cleansing operation and prompted them to ask for air support. Vang Seng volunteered to fly solo to help Col. Cher Pao Mua, who also happened to be his father-in-law.
Vang Su: performed his air pilot mission extremely well. He flew over several enemy camps and was able to drop bombs very accurately on enemy targets, very much like pilot Ly Lu. He got shot twice by enemy's anti-aircraft guns. The first time, he survived thanks to the help from a US helicopter and suffered no wounds. But the second time, Vang Su got shot by enemy's 37 mm anti-aircraft guns and didn't realize they created a big deadly wall in front of him.
 Vue Ger: was only on duty for a short period when he was hit by enemy's anti-aircraft. The enemy was using ultra-modern anti-aircraft weapons to shoot at T-28, an aircraft of World War II vintage, rather slow-moving, and more suitable for training purposes than for actual air operations. T-28 was still very effective in supporting troop movements. Whenever the enemy chose to fight to death, that place will end up being the site of their burial.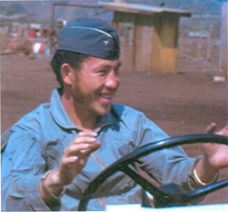 Photo #102 (left). T-28 pilot Capt. Vang Seng was sent to LS 32 to give air support to his father-in-law. The mission was successful but the weather was bad. He planned to fly low in order to land at L20A but hit a tree, crashed and died in December 1971.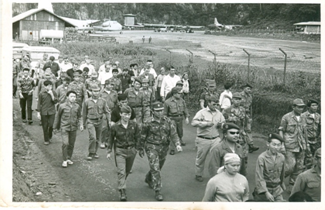 Photo #103 (right). High ranking civilian and military officers marching behind Capt. Vang Seng's coffin to the burial site. Photo taken in 1971 at Long Chenng, XiengKhouang, Laos.
According to Col. Cher Pao Mua's testimony, about one hour before Vang Seng reached his bomb dropping target, several strange phenomena occurred. The Lao flag that hung on top of a pole in the middle of the field fell to the ground without any wind blowing around. The thick clouds that used to cover the mountain top surrounded by the enemy suddenly lifted off, allowing Vang Seng to easily spot the enemy's bunker. Vang Seng dropped bombs on the enemy's tunnel and killed all the soldiers in the bunker. This also silenced all enemy's heavy gun firing.
The allied forces were then able to continue their cleansing operation. Col. Cher Pao Mua was very satisfied with the results, and asked Vang Seng to go back for one more round to finish off the enemy's artillery close to the camp. However, Vang Seng disappeared from the sky and never returned.  What actually happened was that, when Vang Seng flew back from Bouam Long to Long Cheng, thick clouds prevented him from accurately locating the airport. This forced him to fly at lower altitude to go through the clouds and try to land at the airport. In the process, he had to fly over the Phou Mork Mountain, which was covered with tall trees. Unfortunately, his airplane hit the trees, broke into two pieces, and fell to the ground. [I personally flew in to look for the aircraft, and was able to locate its dislocated pieces as well as Vang Seng's body. I took the body back to Long Cheng for religious rituals in early December 1971].
In 1972, the allied forces recaptured the Plain of Jars from the enemy and were in action all the way to Lath Sene. The enemy left behind a tank in the middle of a court yard at Lath Sene as they rushed out to hide from the aircrafts and had no time to drive the tank away. That morning, Lytou Xong was the Raven 01 pilot who helped locate the enemy's position and asked T-28 pilot Vang Be to destroy the three tanks that were on the highway. Two of the tanks were damaged but the third one did not get hit too badly as the aircrafts were running out of bombs. That's how the tank was left behind. Gen. Vang Pao then ordered pilots Vang Su and Mua Chue to go back and finish it off.
When Vang Su arrived at the scene, the situation had changed. The enemy was already well prepared to protect the tank and pick it up as soon as ordered to do so. The first bomb that Vang Su dropped did not hit the target. Pilot Mua Chue who followed him in a north-to-south direction dropped a bomb that also missed the target. Vang Su called Mua Chue and told him, "Be, watch me. If I still miss my target this time, you can call me Doggie!" Vang Su made his second attempt, flying again from north to south, but the enemy has installed two 37 mm anti-aircraft guns at Ban Tone, west of Lath Sene, and fired them at Vang Su, putting a big blackboard in front of him. When hit by the bullets, Vang Su's aircraft fell to the ground at Lath Sene. Mua Chue veered up high in the sky and dropped the bombs he had left on the enemy's anti-aircraft artilleries. A loud explosion ensued, bringing tears to Mua Chue's eyes –these are Mua Chue's own words. He then flew back to Long Cheng.
As sunset was approaching, this was not the right time to pick up Vang Su's body. The next day, the allied forces attacked the enemy and reached the area where Vang Su's aircraft fell to the ground. As Commander of the Second Division, I ordered a contingent of 50 soldiers to plough the field looking for Vang Su's body. They did find pieces of the aircraft but not his body. I then did the field ploughing myself, walking along the banks of the Nam Sene Creek. I detected a bamboo stem floating in the middle of the stream, with a scarf wrapped around it. I was intrigued and asked the soldiers to bring that stem in. Sure enough, Vang Su's body was there, attached to the bamboo stem. We took it back to Long Cheng for the funeral.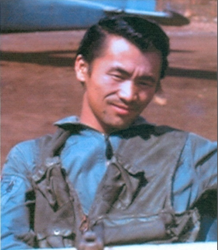 Photo #104  Capt. Vang Sue, T-28 Pilot. He was assigned by Gen. Vang Pao to finish one of enemy tanks in the plain of Lat Sene, Xieng Khouang Province. He was hit by enemy's 37mm anti-aircraft. His plane blew up and killed him in July 1972.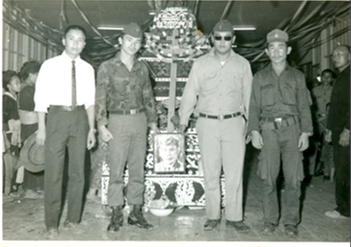 Photo #105  Pilot Vang Seng's funeral. L to R. Vue Neng, Vang Sue (T28 pilot), Yang Xiong (T-28 & Raven 01 pilot) and Vang Bee (HT 34 pilot). Photo taken in 1971 at Long Cheng.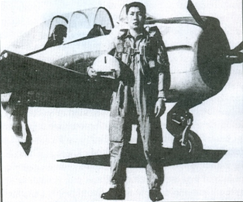 Photo # 106. T-28 pilot Vue Ger in 1970
The Third Group of Hmong T-28 Pilots
The 1968 class T-28 pilots graduated in 1970 and included the following:
Ly Teng: flew T-28 and C-47 aircrafts and immigrated in 1975 to California, USA;
Vue Long: was killed in 1971 near Phou Lieng Kai Moungain (between Phou Pha Xay and Phou Hinh Tang);
Vang Bee: a T-28 pilot who had more flying hours than any other pilots. Here are some more pertinent details:1970-1973: flew T-28 aircraft. 1973-1975: flew Baron aircraft 1974-1975: flew Cessna and Baron Airplanes as Gen. Vang Pao's personal pilot 1973: flew T-28 to support allied forces at Muang Mork. His aircraft was shot down by the enemy at LS46, but he was rescued by US and Lao pilots. On March 13, 1973 Gen. Vang Pao offered a spiritual, well-whishing ceremony on the same day for both pilots Vang Be and Mua Chue.
Xiong Koua: after training, served duties for several months at Long Cheng. When he came back from one of the missions and tried to land at Long Cheng airport, a Charlie Green Helicopter flew in front of him and blew his T-28 off the airstrip. Xiong Koua jumped from the plane but when the parachute opened, part of its strings hit one of his eyes.  After losing an eye, he stopped flying the T-28. He is now a US Citizen living in Chicago, Illinois, USA.
Mua Chue was a smart T-28 pilot with good decision-making skill and warm friendship toward his peers, very keen at performing his duties, and a pilot that shot targets more accurately than many other pilots. At one point in August 1972, the Second Division led by Col. Geu Vang moved to Lath Sene to liberate the Plain of Jars. He called pilots Mua Chue and Vang Bee to help because so many enemy troops were stationed on the nearby mountain. Vang Bee was the first to land; with Mua Chue and Yang Bee providing cover. As soon as Vang Bee landed, anti-aircraft shells were sprayed over him, forcing him to take off. Mua Chue called him and said, "Look at me and see how it works." He then flew up as high as possible –around 10,000 feet or more– then flew vertically down around 8,000 feet above the enemy position, and dropped all six bombs in one trip. Two anti-aircraft guns were completely destroyed.  Vang Bee and Yang Bee did exactly the same. They dropped all their bombs as well. The other two antiaircraft guns were destroyed too. The ground troops later occupied the position and saw the dead bodies of many North-Vietnamese Communists. Four of them were chained to their 14.6 mm anti-aircraft guns, with no way to run away from the bombs.
Ly Tou Xiong was a well-groomed person. He liked to joke and was somewhat of a playboy. He was a good T-28 pilot but could not strike the targets accurately. He flew T-28 for two years. In 1972, Gen. Vang Pao assigned him as a Raven 01 pilot to locate enemy targets, support, and guide movements of ground troops. In May 1972, Ly Tou Xiong and Yang Xiong were given the mission to cover Division II in their operation to reoccupy the Plain of Jars. In early June 1972, at dawn, Yang Xiong located Lt. Col. Vang Youa, Commander of Regiment 23, who was badly wounded in battle the night before and could not walk.  The enemy surrounded him and his guard. Yang Xiong called the HT34 to rescue him. The HT34 was led by Col. Geu Vang, Commander of Division II, who asked Yang Xiong to shoot a smoke rocket to identify Lt. Col. Vang Youa's location. Lt. Col. Vang Youa and his guard had killed several North-Vietnamese around them before dawn and were almost captured by the enemy. Yang Xiong arrived on time and covered them and called HT34 to rescue Lt. Col. Vang Youa. The rescue by the HT34 was a success, but by the time the HT34 flew out, it was repeatedly shot at by the enemy. Miraculously, none of the bullets hit the HT34. "The mission to rescue Lt. Col. Vang Youa was a suicide mission because the North-Vietnamese had completely surrounded the area. As the HT34 returned to the base at Long Cheng, the HT34 pilot Lt. Sisavanh Vongnaphone looked over his plane and said, "It was God who saved us and the plane from being hit." [Sisavanh Vong Naphone immigrated to Elgin, Illinois USA. He died in 2001, and was survived by his wife Nang Bounheuang Vong Naphone and children].  At Lath Sene, early in the morning before Lt. Col. Vang Youa was hit, three North-Vietnamese communists' destroyer tanks were in the pursuit of Division II's ground troops". In early June 1972; in response to the Commander of Regiment 23's call for air support, Ly Tou Xiong flew a Raven 01 in and suddenly appeared in the sky. When the enemy saw the Raven, they jumped out of their tanks and ran away in the open field to hide under the tall grass. Ly Tou Xiong launched anti-personnel rockets to the enemy soldiers instead of trying to destroy the tanks, and did kill many of the fleeing soldiers. He also called the T-28 pilots to fly in and destroy the tanks. One tank was left unscathed and still parked near the middle of the plain at Lath Sene. Gen. Vang Pao ordered Vang Sue and Mua Chue to destroy this last tank, which was equipped with 37 mm anti-aircraft gun that was then used to shoot down Vang Sue's plane and kill him. In 1973, Ly Tou Xiong was flying a Cessna at Gen. Vang Pao's order, because the war had already practically ended. He flew the general to many places to visit the population in Military Region II.  In December 1973, Ly Tou Xiong flew him to Nam Fene (LS223), and then flew back to Long Cheng with Vang Chong. It was cloudy and Ly Tou Xiong tried to fly low, at about 500 feet above ground. While following the road near Phak Khet Mountain, Ly Tou Xiong hit a tree and both pilots were killed instantly at 8 a.m. Vang Chong, who died with Ly Tou Xiong, was a HT34 pilot. He completed pilot training in 1973, just a few months before his death.
Yang Bee was a T28 pilot and a sharp shooter. He immigrated to San Diego, California USA.
Yang Pao was a T28 pilot for a few months and was assigned the mission to destroy the enemy's 12.8 mm and 37mm anti aircraft guns at Nam Sene Valley. His plane was too slow for 37 mm and 14.6 anti-aircraft guns.  He was shot down on March 23, 1972. He jumped out and was captured by the North-Vietnamese communists, but was released in 1978. Vang Bee went to help him and guided him to Thailand. He was a refugee in California.
Vang Seng Khang, after graduation as a T28 pilot, flew only two missions.  He saw many anti-aircraft guns and was scared to death. He fell sick and could not carry out any more flying missions. Gen. Vang Pao had a doctor give him a physical exam. The doctor diagnosed nothing wrong with him, so he was instructed to go home and recover, but he never returned to duty.
Bounchanh, the first Lao Theung minority T-28 pilot, flew missions for about one year. On June 23, 1972 Gen. Vang Pao ordered him to destroy the 86 mm artillery in Ban Hine Tang (LS 74). His plane was shot down during that mission and he was rescued by fellow HT34 pilots. He immigrated to California USA.  [Many young Lao Theung ethnics had undergone training to become T-28 pilots, but many of them did not pass the tests because of the English language barrier].
Sau Thao and Nhia Thao were twin brothers. Sau Thao was a T-28 pilot. He flew several missions and was shot down. His body was never recovered.
Nhia Thao was greatly upset about his brother's death. On April 3, 1972 Gen. Vang Pao ordered Nhia Thao and a Lao Pilot to drop bombs near Ban Ban, close to the Laos/Vietnam border. The two pilots disappeared and their bodies have never been recovered.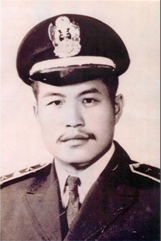 Photo #107. T-28 pilot Vang Be in 1973– see his biography 5.5.10
[Notes from the author. I remember what pilot Vang Be once said, "The North-Vietnamese fire according to plan and with great accuracy. They also used ploys. If you don't pay attention, you will be the loser. When we are in the air, we are strategically ahead. But we have to watch the enemy's reaction, be familiar with the ground, be aware of the weather conditions that were predicted to occur during the planned operation, and know how to fly up into the sky and down onto the ground. Unless it was deemed necessary, the enemy will not fire at an aircraft."  Vang Be added, "Each time the allies asked for air support and warned that the enemy is equipped with anti-aircraft guns, the pilots should attack the anti-aircraft positions first…. The enemy is normally more afraid of T-28 than a jet aircraft."]
In 1971, the allies used the following forces to attack the Plain of Jars:
Regiments 21 and 26, with the mission to seize Lath Bouak and Phou Houat and use them as strongholds
Regiments 24 and 22, along with some of Cher Pao Mua's forces, with the mission to seize Nongpet and Tatpeub in an attempt to cut Highway 7 behind the enemy line.
Pilot Vang Be used to say, "Bomb dropping to support allied troops' movement during the Lath Bouak's operation revealed that the enemy was not afraid of T-28 aircraft at all. They just went out screaming at T-28s and even fired small guns at them. We can drop bombs over them like if they were chickens or pigs." After the allies seized the area's mountain range, they discovered that the enemy had left hundreds of dead bodies in the valley and ground holes.
For more details, please read Air Forces Capt. Vang Be Biographie in this book.
It was noticed that the dead bodies were from both men and women who were still fairly young. This was an enemy ploy. Also, since their anti-aircraft artillery was installed near Khang Khay, each time an aircraft flew through the valley in a south-to-north direction to drop bombs, the enemy will always be able to shoot it down. This was within the 10,000+ foot shooting range their 37 mm anti-aircraft guns were good at. By comparison, T-28 aircraft's flying range was only about 8,000 feet during up and down maneuvers before and after bomb dropping.
Pilots made their attack plan based on the topography and the enemy's movement. Nongpet was located in a narrow valley to the east and the west. This caused the enemy to believe for sure that the pilots, in order to drop bombs on the valley, would have to fly in a south-to-north direction. Furthermore, at the time, the pilots did not fly very high –just slightly above the mountain top, dropped their bombs, moved toward the allies' bases, and came back to the targets over and over again. Pilot Vang Be said, "Bomb dropping during that air operation had caused more enemy damages than during any other previous air operations."
Pilot Vang Be was a very capable and extremely courageous man. While almost all the Hmong and Lao military officers quickly immigrated to other countries, pilot Vang Be chose to flee into the jungle and continued his fight against the communists from 1975 to 1984. Later on, he did cross the Mekong River to Thailand and went on to start a new life in the US as a result of political changes and absence of international assistance.
"Mua Chue, Vang Su, Yang Bee, and Vang Seng were very brave pilots that year but, Vang Su, Vang Seng were later killed in the battle. In 1973, when the North-Vietnamese communists came closer to Long Cheng, Mua Chue was ordered to destroy their 12.8 mm machine guns near Phou Mok (Skyline II). His plane was hit and caught on fire. He jumped out and landed near the airport in Long Cheng. This was a couple of weeks before Vang Bee's plane was shot down in LS46.  In 1976, Mua Chue's brother-in-law (who then lived in France) petitioned his family members to go to France from the refugee camp at Nam Phong, Thailand.  Mua Chue passed away in France in 2000, due to depression, because he badly missed the rest of his family and friends."
The Fourth Group of Hmong T28 Pilots
The fourth group of Hmong T28 pilots finished their training at the end of 1972. This group included the following:
Vang Tou, who flew several missions. On his last mission, as he was landing, he landed short on the airstrip and found no way to fly out. He hit the building nearby and broke his nose. He stopped flying and immigrated to the US where he now lives in North-Carolina.
Vang Teng, who flew a few missions in 1972 and some in 1973. He came as a refugee to St. Paul, Minnesota, USA where he still lives. He has a heart problem and is very weak in 2009.
Ly Yang, who flew only a few missions. He is a refugee now living in Mississippi, USA.
Yang Phong, who flew few missions. He is also a refugee living in St. Paul, Minnesota, USA.
Ly Mua, who flew few missions. He is a refugee in the USA, at an unknown location.
The Fifth Group of Hmong T-28 Pilots
The fifth group of Hmong T28 pilots, who completed training in 1973, included the following:
Vang Foua: completed training just as Laos fell to the Communists. He immigrated to the USA and now resides in Georgia, USA.
Mua Soua: had not served in Laos. He immigrated to the USA and now resides in California, USA.
Yang Ge: nicknamed "Cheu Tha," immigrated to the USA and now resides in Ohio.
Yia Khang:  immigrated to the USA and now lives in Narvon, Pennsylvania.
The Role of a T-28 Aircraft
One T28 plane could carry six bombs of 250 pounds each, or four bombs weighing 500 pounds each, and two 12.7mm machine guns holding cartridges for about 1,000 rounds. It could carry CBU Bombs (Cluster Bomb Unit) and many rockets. The T28 could fly about four hours and was efficient in helping ground troops to mount offensive or defensive attack against enemy troops. Without air support, our troops would not be able to fight the North-Vietnamese communists.  In addition, the North-Vietnamese were strongly supported by the Communists around the world, especially USSR and Communist China. This made the North-Vietnamese military personnel and equipment many times stronger than their Royal Lao Government counterparts –who could only survive thanks to air support from the US. The air support received by Laos was limited to the support from the US, the only party that respected Laos's Political Neutrality compared to North-Vietnam (who openly violated the neutrality agreement by sending military and war equipment to support Kong Le's coup d'état in 1960 in Vientiane).
Hmong HT-34 Pilots
The following were trained HT-34 Pilots:
Vang Bee graduated in 1973 and flew air operations for a year. The May 1975 regime change prompted him to immigrate to California, USA where he died in 1994.
Vang Chong: shortly after graduation, served as HT-34 Pilot. He flew a Cessna airplane to Nam Fene (LS 223) with Cessna pilot Ly Tou Xiong and, on the way back to Long Cheng, ran into a mechanical failure and was killed in December 1973.
Vang Kha: flew for almost a year. He later immigrated to Pennsylvania, USA.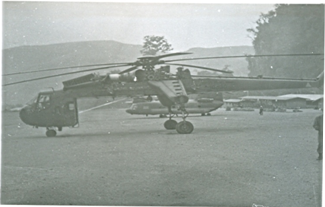 Photo #108. Helicopter carrying heavy weapons and vehicles.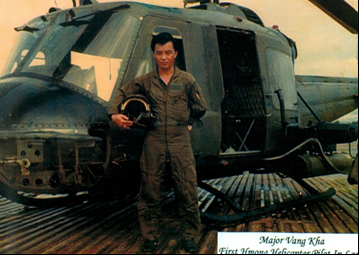 Photo #109. HT34 Pilot Maj. Vang Kha in 1973, standing near a Chopper Helicopter
Hmong Dakota C-47 Pilots
The first two Hmong C-47 pilots were Xiong Kou and Mua Va. In 1970, Mua Va crashed on the mountain below the Long Cheng airport while transporting food from Vientiane to Long Cheng.  They both died on site.
In 1973, Gen. Vang Pao sent T-28 pilots Ly Teng and Mua Chue for training on C-47. Ly Teng graduated in 1973 and flew only a few missions before he immigrated to USA. Mua Chue alsograduated in 1973 and flew a few missions with Ly Teng; then immigrated to France where he died in 2000 from depression. Ly Teng immigrated to the USA.
Hmong Airplane Mechanics
Lo Ge, Mua Xiong, and Ly Ying: both completed training as airplane mechanics in 1971.
Raven 01
The first promotion of Raven operatives included Mua Chue, Txiaj Vang Xiong, Vang Chou and Seng Foung. As back-seaters, their mission was to seat in the rear of US aircrafts referred to as Raven (planes that flew in the air looking for military targets such as anti-aircraft guns, tanks, troops movements, etc.) and translate messages for the pilots to ensure they were correctly stated and correctly interpreted. There were several other operatives serving in this back-seat role whose names are not well-known, except for Yang Heu (killed in Xieng Khouang in 1968), Ly Mua, Chia Va Xiong, Ly Nou, Phab Qig, and Vam Ntxawg Tsheej.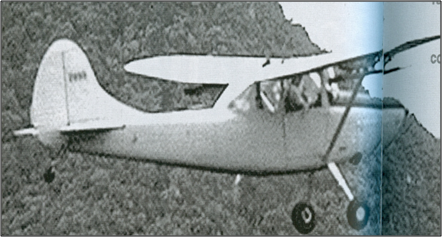 Photo #110.Raven 01 is a small plane used to locate enemy targets and call in air strikes to support allies troops operations .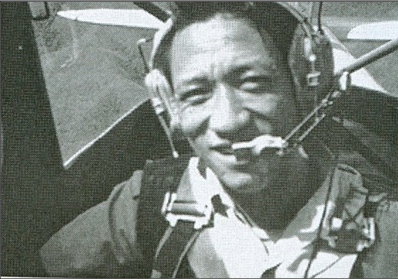 Photo #111. Backseater Wa Jer Cheng (also known to US Raven pilots as "Mr. Scar" in 1968).
Vam Ntxawg Tsheej's facewas marked by a big scar caused by a landing accident when he landed a Raven plane at Muang Soui. Many US agents operating in MR-II called him Mr. Scar. This was a "Do or Die" event, because the US pilot of the Raven was killed in the air and Ntxawg Tsheej had to take over, but missed the landing strip. The plane flipped and heavilyy injuried his back and his fronthead. Ntxawg Tsheej did not leave Laos because of those injuries, and died in that country.
Lor Thai was shot by enemy anti-aircraft guns during one of his sorties in the Plain of Jars, and suffered a serious wound on his forehead. Fortunately, the US hospital staff was able to save his life. Lor Thai immigrated to the US and now lives in North Carolina.
The American Raven 01 pilots who came to help the Hmong in Military Region II included Raven 20, Raven 21, Raven 22, Raven 23, Raven 24, Raven 25, Raven 26, Raven 27, and Raven 28. Their leader was Capt. Art Cunillius, a Raven 01 pilot who also flew Raven 20 in MR-II.  He is now a General in the United States Air Forces. [Thanks from the author to Maj. Vang Chou for providing the information].
Hats off for the Pilots
Starting from 1972, Air Force Maj. Yang Xiong was the commander of the MR-II military pilots, named "Foung Bin Pha Khao" (Pha Khao Pilots).  The group consisted of two units, the Yellow Pha Khao Unit and the Green Pha Khao Unit. Each unit had between 3 and 5 airplanes to use interchangeably in air raid missions against the enemy.
Lao military pilots in other military regions were shot at and usually got killed when they inadvertently hit the mountain because of cloudy weather that limited their visibility range. In MR-II, the problem was even more complicated because of this region's higher mountain ranges.
A team of Lao T-28 pilots from MR-I once spent the night in the same house and left at 9 a.m. on their bomb dropping mission. In the way back, their plane was flying at low altitude and accidentally hit a mountain near Long Cheng. All those on board were killed, with their bodies broken into pieces and unrecognizable. It was found out later that the pilot was Thao Khamphat, a native of Sayabouri Province. Three or more fatalities occurred that same day in the battle front as a result of enemy firing.
"In retrospective, it can be stated unequivocally that the Lao and Lao Hmong ethnic pilots accomplished their mission with courage, determination, and deep sense of nationalism. They loved Laos and its people who were fighting together in all corners of the country to defend its national independence. They truly deserved our warm and eternal recognition their personal sacrifices and dedication".